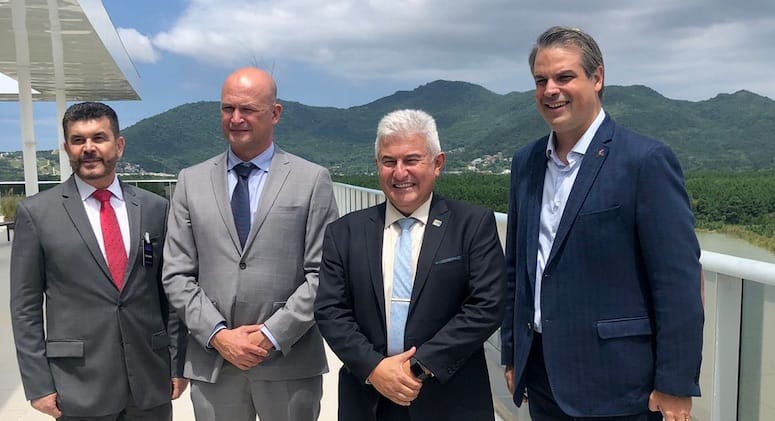 Posted by: SC Inova Newsroom.
The demand for information security drives the design of a state-of-the-art datacenter network at Armazém Cloud, a company that has two integrated DCs in the Santa Catarina cities of Brusque and Joinville. After inaugurate its own building with a TIER III datacenter at Ágora Tech Park (with an investment of over US$ 10 million), last year, Armazém signed a protocol of intentions for the construction of the third unit this Thursday (24th).
The location will be Sapiens Parque, a technology park in the North of Florianópolis, and the objective is for this to be the main node of the network. In addition to Armazém and Sapiens, the project also involves the Commercial and Industrial Association of Florianópolis (ACIF), which has a unit in the technology park.
The announcement was made at an event at Sapiens that brought together the Minister of Science, Technology and Innovation, Marcos Pontes, and members of the MCTI team. The event marked the presentation of several investment projects in the technology park.
At the meeting, Armazem CEO Marcos Stefano presented the Data Center network project and highlighted the strategic importance of a robust data security system as a support tool for the development of technology and national innovation - especially for startups and companies with businesses in a digital environment, offering cloud services, with the most modern equipment, methodologies and systems on the market.
"The topic of cybersecurity is becoming more relevant every day, given the recent and constant attacks on systems that have resulted in information leakage and outages that cause billions in losses," Stefano said.
The number of cyber attacks on Brazilian systems took a giant leap in 2021. According to a survey by the security company Fortinet, in the third quarter of last year there were more than 525.1 billion shares that sought to exploit code execution vulnerabilities and remote control of breaches in servers – well above the 3.2 billion registered in the first three months of this year by the same company, an increase of 16,346%.